Hong Kong Cleanup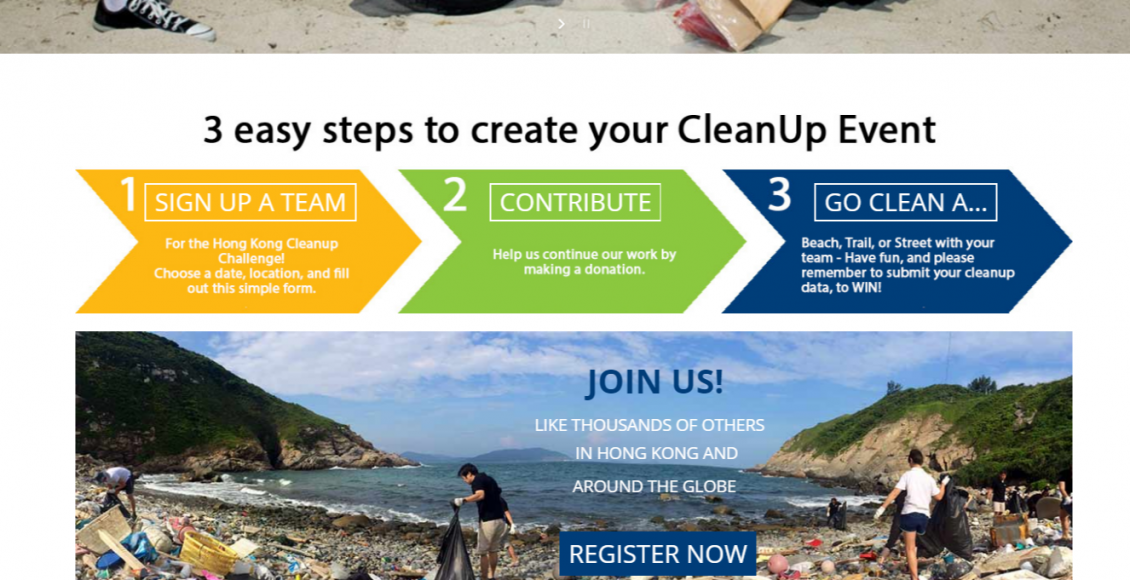 Having engaged over 350,000 participants and cleaned up over 70 million pieces of trash, the Hong Kong Cleanup Challenge has firmly established itself as a well-loved and vital part of the Hong Kong event landscape. Yet 16 years of data and volunteer feedback have shown a need for even greater community engagement and action. Trash jeopardizes the health of the ocean, coastline, country parks, our economy and people. It is everywhere – and is here to stay unless we change our habits.
The Hong Kong Cleanup is a year long education platform that works with communities, schools, government and businesses to provide practical solutions to help us all live more sustainability every day of the year. The annual Cleanup Challenge, from January 1st through December 1st, is the region's largest volunteer event of its kind, and is open to the general public. Throughout the year, the Hong Kong Cleanup team also organizes managed cleanup events for corporations wishing to plan a meaningful, educational team-building day out with their employees. For more information on managed staff engagement events.
The Hong Kong Cleanup is the official coordinator of the global cleanup movement on behalf of Ocean Conservancy's International Coastal Cleanup, and Let's Do It! World Cleanup, which is sanctioned by UNEP.
OUR MISSION:
* To empower Hong Kong citizens to become active agents in keeping our beautiful coastal areas, country parks and city streets safe, clean and trash free
* To increase awareness and instill a level of understanding that communities are pivotal to changing attitudes towards environmental protection
* To inspire positive change related to waste management, littering and pollution, and for improved public-private cooperation to minimize Hong Kong's waste production.
The Hong Kong Cleanup has been coordinating community cleanups and other educational activities in Hong Kong since 2000. Having volunteers see the trash, collect it, and record data about it, raises awareness of the local and global debris issue. Once you have removed hundreds of plastic straws from a beach, or a bag full of cigarette butts from a hiking trail, your outlook on trash begins to shift, and this understanding can lead to transformation and change of habits.
Our vision is that one day, we won't need to be doing cleanups. We hope to raise awareness and inspire change so that far less trash is generated, and none ends up in our natural ecosystems. Be part of that vision – join the Hong Kong Cleanup!