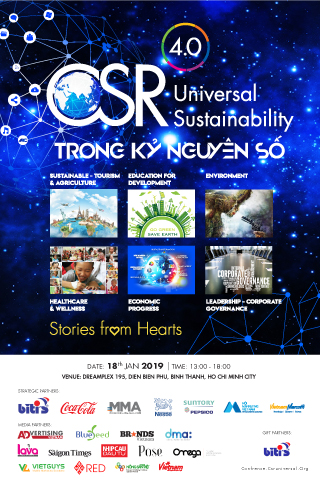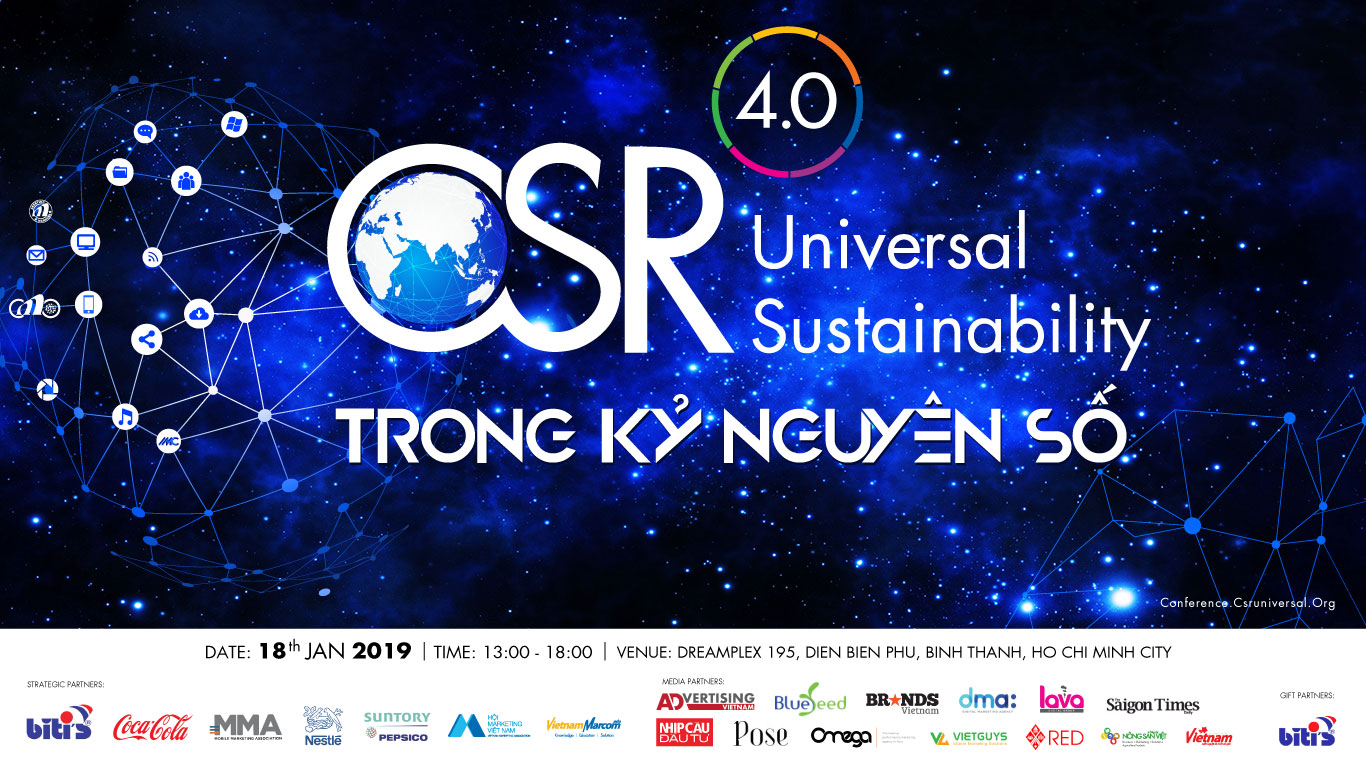 Date: Fri, 18th Jan 2019 Time: 13:00 to 18:00 Venue: Dreamplex 195, Dien Bien Phu, Binh Thanh, Ho Chi Minh City Conference.CSRuniversal.Org - CSR@Csruniversal.Org - Hotline: 0915793055 - 0949430055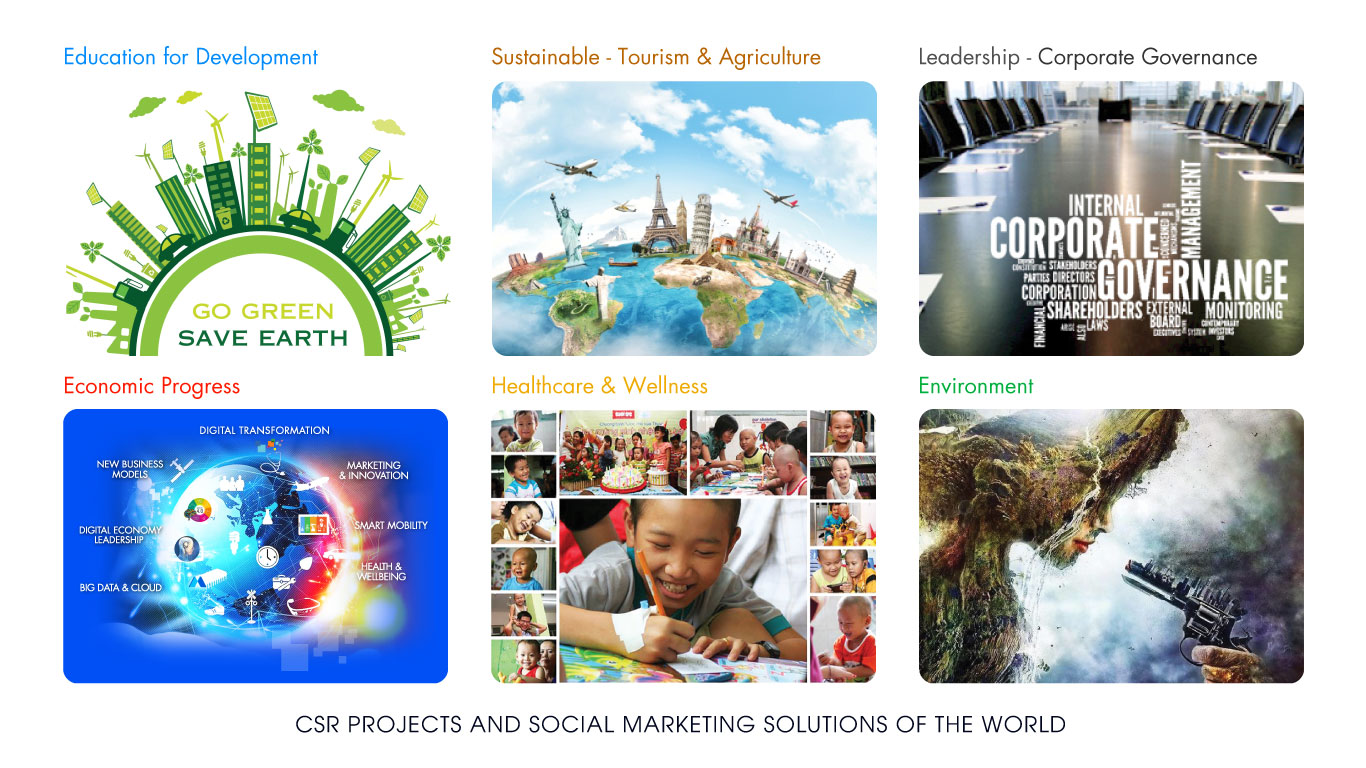 About CSR In Digital Age
Good Corporate Social Responsibility & Citizenship has forever been the core foundation of all truly great societies and honorable nations. To maintain and promote the values of compassion, trustworthiness, and integrity that serve to define the Good Citizen, CSR Universal Network has created a community-based platform to empower individuals, civic organizations, schools, and business groups to drive positive changes, promote their projects & campaigns and to share their perspectives, best practices and potentially life changing stories by::
• Increase annually sustainable platform for marketers regarding CSR Matters.
• Inspire marketers community to share, learn and practice effective and innovative CSR to better their industry.
• Continuously collect and endorse more best CSR cases into the CSR library for community sharing
Dear Ladies and Gentlemen,
On behalf of the ExCom of the CSR Universal, I am most happy to welcome you to The CSR in Digital Age Conference 2019

GOOD CSR & CITIZENSHIP has forever been the foundation of all truly great societies and honorable nations.

In order to maintain and promote the values of compassion, trustworthiness, and integrity that serve to define the Good Corporate Citizenship, the CSR Universal Network is proud to have created this community based platform to empower corporate, individuals, civic organizations, schools, and business groups to promote their projects and to share their perspectives and potentially life changing stories.
May your stories, projects share in our conference and on the Library will be save and share to last. May all of us, friends and partners experience the best of health, joy and happiness

My sincere thanks and most kind regards to our speakers, supporting partners
TRAN HOANG
Chairman of CSR Universal
Chairman of Vietnam Marketing Association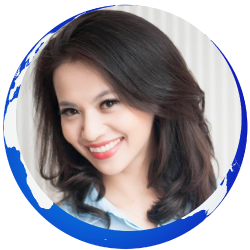 PHAN BICH TAM,
COO of CSR UNIVERSAL.
COUNTRY MANAGER; VIETNAM, MYANMAR AND CAMBODIA MOBILE MARKETING ASSOCIATION ASIA PACIFIC LIMITED
Phan Bich Tam is currently the Country Manager of Mobile Marketing Association (www.mmaglobal.com) in Vietnam, Myanmar and Cambodia, her passion is instrumental in building a strong and cohesive mobile marketing ecosystem that aims to boost mobile as an indispensable medium since 2013.
With more than 12 years of experience, Tam has handled many different roles from Sales & Marketing Director, Regional Sales Manager and as CEO in various businesses. Before joining the MMA, Tam was a key member in the strategic team for leading ICT company funded by Mekong Capital and successfully grew the revenue by 500% over 2 years.
Tam is passionate about building community, making impacts, and encourage the application of mobile marketing for business transformation. Tam has been leading CSR Universal project (Non Profit https://www.csruniversal.org) and lecturing at VietnamMarcom, the most famous marketing school in Vietnam. Besides being a marketer, Tam is a certified style-coach by Style Coaching Institute (https://www.stylecoachinginstitute.com), Tam loves fashion and love to inspire and change life with its beauty. Tam holds a MBA from Gloucestershire University, UK.
Dear friends,
I greatly welcome Mr. Tran Hoang's initiative to establish CSR Universal organization. In today's times, we need many sincere movements that promote environmental sustainability. Therefore, a community-based platform such as CSR Universal is expected to make significant contribution in empowering people, institutions, government and business sector.

This is also consistent with the concept described in my book, Marketing 3.0: From Products to Customers to the Human Spirit, which was created together with Philip Kotler; the book has already been published in 27 languages. The fundamental idea is that we can no longer conduct business and move forward only to the pursuit of profit. We also need to consider the impact on people and planet. We should not only seek to satisfy consumers but also make people's lives better.

I hope that CSR Universal becomes a much esteemed platform that can invite a number of stakeholders to work together in accordance with the spirit of Marketing 3.0. Starting from creating an initiative to make the world a better place, conducting research on related fields, participating in events supporting the causes, or perhaps simply sharing their experiences and stories which can inspire stakeholders in CSR Universal.
Here's to sincerely hopefully the collective activities of all the stakeholders in the organisation can make a difference and create a better world.
HERMAWAN KARTAJAYA
Founder & Chairman
MarkPlus, Inc.
Hermawan Kartajaya, a.k.a. Tan Tjioe Shiok, is the co-founder of Asia Marketing Federation, President of Indonesia Council for Small Business (ICSB), and President of ACSB (Asia Council for Small Business)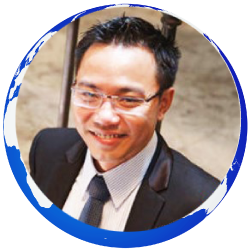 NGUYEN DINH TOAN,
SENIOR VICE PRESIDENT OF MARKETING SUNTORY PEPSICO VIETNAM / CO-CHAIR OF MMA VIETNAM
Currently, Mr. Toan holds the position of Senior Vice President of Marketing at Suntory Pepsico Vietnam. Before that, he was Head of Marketing of Masan Beverage and Vinataba – Philip Morris Indochina, and also served as CMO of Masan Foods, leading the company in the fastest growth period from 12/2008 to 09/2011. Mr. Toan also used to be Customer Marketing Director of Home care, Personal care… for 9 years working at Unilever. Through out that time, Mr. Toan received many prestigious awards from Regional Unilever including "Regional Golden Award", "Global Path to Grow", Silver "Asia's Best Brand Experience". He also initiated the famous campaign "OMO Tet" and "Dirt is Good" of Unilever Vietnam. Being the former Sunlight Brand Manager, he brought Sunlight to the number 1 brand in the market. The greatest thing to mention is Mr. Toan is the one and only Vietnamese person participating in Board of 50 Judges in Asia Marketing Effectiveness Awards (AME) 2013..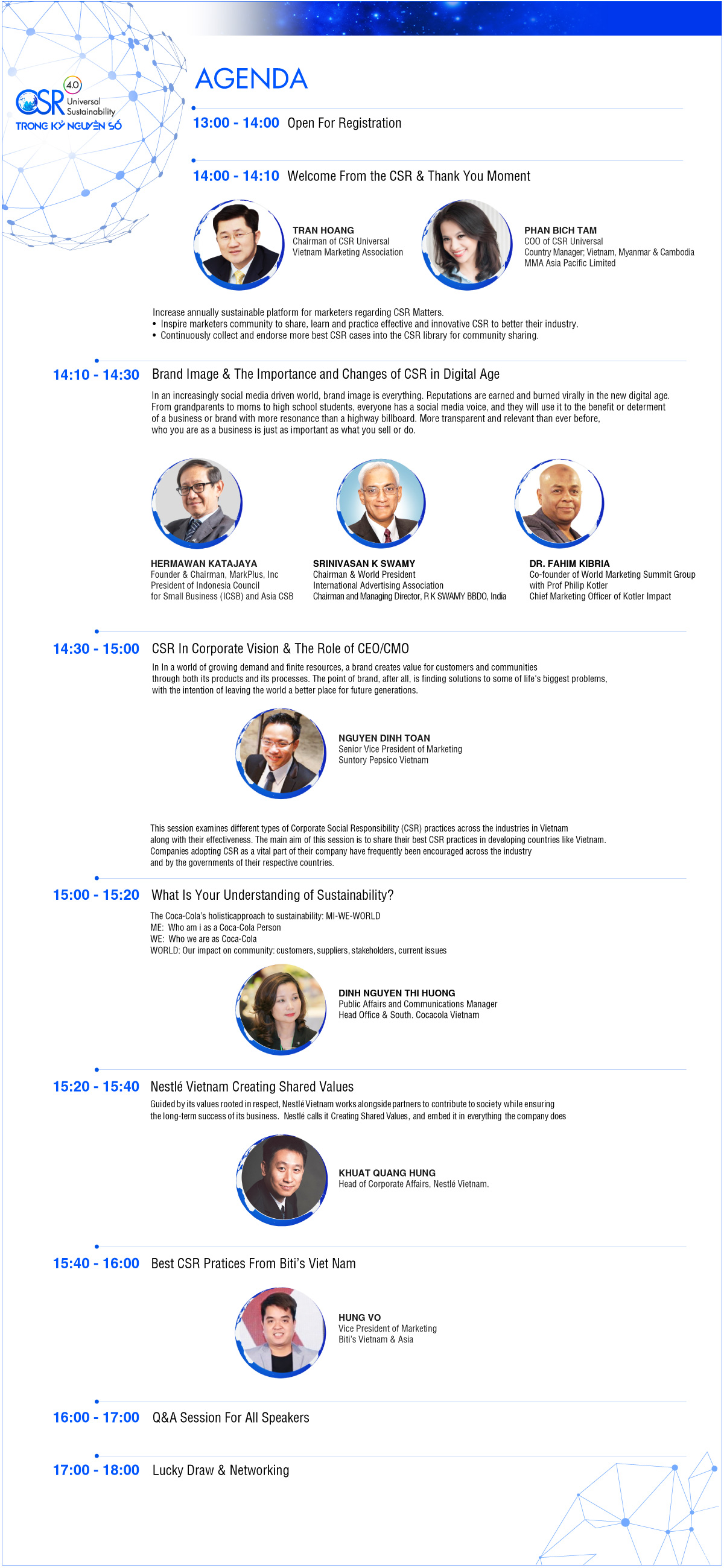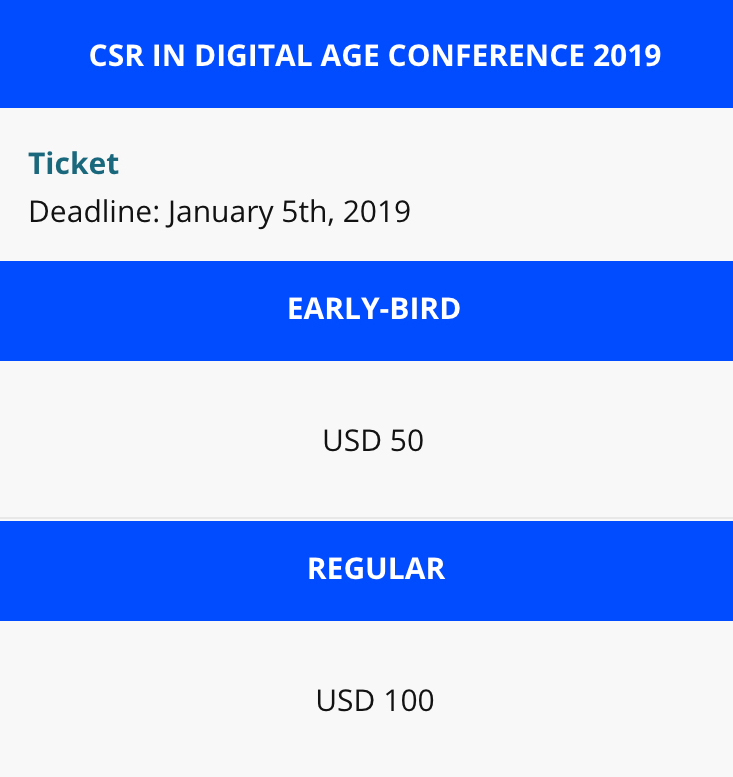 If you company is not on the invited guest list, and you would like to attend this event, please support by purchasing ticket. To register, please complete form by filling in the required fields and you will be contacted by our team within 48 hours. Ticket price listed above. [ninja_form id=2]
Request an invite
Our Welcome Invitations are extended to all CEOs and CMOs (or manager level) to join the event with CSR. To request an invite, please complete form by filling in the required fields. Your invite request will be on a wait list. Our team will send the final invite to you within 48 hours. [ninja_form id=3] Conference.CSRuniversal.Org - Hotline: 0915793055 - 0949433055 - Email: CSR@Csruniversal.Org

Our previous Supporting Partners for Case studies sharing