Microsoft Education: Empowering students and teachers of today to create the world of tomorrow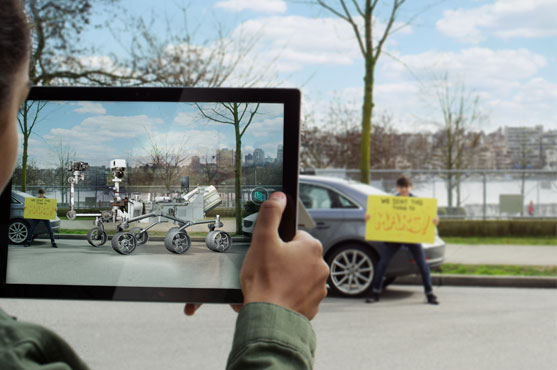 By Terry Myerson / Executive Vice President, Windows and Devices Group
Microsoft introduced a set of educational products and services, inspired by teachers and students, including a new Windows experience called Windows 10 S; new experiences in Microsoft Teams for modern classroom collaboration; new features in Minecraft and mixed reality to spark creativity; a range of Windows 10 S PCs for K-12 classrooms; and the perfect Windows 10 S device for college students—Surface Laptop.
We believe technology can inspire creativity in today's classrooms, where the makers of tomorrow reside. This next generation of creators embrace technology as their first language; learn by collaborating and communicating with anyone in the world; and create with touch, command with voice, and conceptualize in 3D.
Preparing each of these creators for the jobs of tomorrow is one of our biggest societal challenges and greatest opportunities. Today, only 3% of college degrees in the US are in computer science and 65% of today's students will have jobs that do not yet exist.
At Microsoft, our mission is to empower every person and organization on the planet to achieve more. As part of that mission, we believe technology can be used as a tool to empower students and teachers to create the world of tomorrow.
Introducing Windows 10 S – a new Windows experience inspired by teachers and students
Our mission with Windows is to build a platform that inspires creativity in each of us.
In the classroom, Windows is the leading education platform worldwide, as teachers choose it for rich creativity inspiring applications, like Autodesk SketchBook, Adobe Photoshop Elements, Minecraft, and the rich Office 365 (not the mobile experience), which is coming soon to the Windows Store. Teachers also choose Windows for rich peripheral support, including amazing new STEM lesson plans with Arduino boards, LEGO® Education WeDo® 2.0, tools to enable accessibility, virtual reality headsets, interactive whiteboards, and more.
To understand how we could do more, our teams traveled the world to talk with school administrators, teachers, and students using Windows in the classroom. Teachers were consistent—kids can get distracted easily and don't always follow direction. They asked for their Windows to be more resilient to hundreds of different youthful kids interacting with each device during the school year, maintaining the same great battery life and fast login time on the first day of school as the last. On the administrator front, I recall how Ricardo Garmendia from the Renton School District described how his department supports 850 classrooms with 11,000 Windows devices—he was overwhelmed with the ongoing setup of new devices, and management of the current devices in the classroom.
Windows 10 S is inspired by students and teachers, streamlined for simplicity, security and superior performance. I believe it best reflects the soul of Windows.
With Windows 10 S, all the applications which teachers and students download come from the Windows Store where they are first verified for security, and then locally they each run in a safe "container", ensuring consistent performance of the system. In the classroom, this ensures fast login times and consistent performance, enabling everyone in the classroom to start learning quickly, and stay focused without distraction.
Windows 10 S can run any browser in the Windows Store. And we have been focused on making Microsoft Edge great for the classroom, ensuring compatibility with the sites educators use, like Google Docs. New features in Microsoft Edge like the new Tab Preview Bar make it easy for students to research and manage school projects. With Windows Ink in Microsoft Edge, students can easily make notes directly on a web page and share them with a classmate.
For Ricardo, and other school IT admins around the world, we also now have the Set Up School PC app in the Windows Store, enabling set up of entire classrooms of devices with customized experiences using a USB stick, in as little as 30 seconds per device. And with Microsoft Intune for Education – available today – we now have a complete end-to-end solution for teachers and schools to configure and manage all their student's PCs.
With Windows 10 S, we've ensured that a teacher or administrator who understands the risks of downloading any app from the Internet, can do so. At any time, they can go to the Windows Store and switch to Windows 10 Pro. This is a one-way switch, as when a user is running Windows 10 Pro they can install anything—but this is the magic of the open Windows platform, which we plan to always continue to make available alongside Windows 10 S.
Inspired by teachers and students, Windows 10 S is a new Windows experience. I believe at its core, Windows 10 S is the soul of today's Windows.
Windows 10 PCs for Education starting at $189
Our goal with Windows 10 S is to develop the open vibrant partner-centric ecosystem we have today. Our partners, including Acer, ASUS, Dell, Fujitsu, HP, Samsung, and Toshiba offer a range of new Windows 10 PCs for Education today –  starting at $189. In the coming months, these partners will offer a range of Windows 10 S devices—from powerful and affordable Windows Ink and touch PCs to beautiful premium devices.
I look forward to students all around the planet learning on these partner devices with Windows 10 S.
Microsoft Teams comes to the classroom
Word, Excel, and PowerPoint Online already allow students to co-author documents in real time. And new classroom experiences in Microsoft Teams take collaboration to a whole new level – and make Teams the digital hub for teachers and students. Together with OneNote Class Notebooks and new assignment and quiz experiences, teachers can easily distribute content, grade work, personalize learning, and communicate with students, parents, and staff. Teams also enables teachers to bring in rich and engaging content from the web, guest speakers, and solutions from education partners like busuu, Canvas, Flipgrid, and Kahoot!. And most importantly, Teams helps students develop the communication and collaboration skills they'll need to be successful in the future. To learn more about the new classroom experiences in Teams, visit the Office Blog.
Introducing Code Builder for Minecraft: Education Edition
What continues to amaze me about Minecraft is that a game that strikes such a deep connection with children has become such an important learning tool to teach teamwork, logical thinking, and problem-solving. Minecraft is not just one of the most popular video games in history — it is also revolutionizing education, with schools in more than 100 countries using Minecraft: Education Edition to promote creativity and collaboration in the classroom.
Today, we announced Code Builder for Minecraft: Education Edition, designed to inspire students to learn the basics and the power of coding by combining the open worlds of Minecraft with popular learn-to-code platforms such as Tynker, ScratchX and a new open source platform from Microsoft called MakeCode. Players can move around, build and create in Minecraft by writing code. To learn more about Code Builder for Minecraft: Education Edition visit, the Minecraft Education Blog.
Free offers for teachers and students
To make it easy and affordable to bring Windows 10, Office 365 for Education with Microsoft Teams, and Minecraft to the classroom, we are offering teachers and students:
New Windows 10 education PCs starting at $189
Free one-year subscription to Minecraft: Education Edition for new Windows 10 education PCs
Free Windows 10 S for all schools on their current Windows Pro PC
Free Microsoft Office 365 for Education with Microsoft Teams
Free trial of Microsoft Intune for Education
Windows 10 S, Office 365 for Education with Microsoft Teams, Minecraft: Education Edition, and Microsoft Intune for Education offer a complete solution for teachers and students—with none of the compromises of Chromebooks and G Suite.
Introducing Surface Laptop powered by Windows 10 S – available for pre-order today
When we built Windows 10 S, we saw an opportunity to not only bring streamlined performance, simplicity, and security to students and teachers in a K-12 environment but to scale to meet the needs of college students and beyond. So today, we're also excited to announce the newest member of our Surface family – Surface Laptop.
Available for pre-order today in 20 countries, Surface Laptop is the perfect balance of portability, performance, and elegance. Powered by Windows 10 S, Surface Laptop has up to 14.5 hours of battery life* to take students through their day and is built to give students the same great performance through four years of college and beyond. We believe ideas will come to life on a 13.5" PixelSense screen with the power of 7th generation Intel core processors. The signature keyboard is covered in Alcantara® material and features a responsive keyset, large trackpad, and soft palm rest for a new level of typing comfort. Surface Laptop is available in four rich, tone-on-tone colors: Platinum, Burgundy, Cobalt Blue and Graphite Gold. To learn more about the new Surface Laptop visit, the Devices Blog.
Surface Laptop starts at $999 USD and will be available beginning on June 15.
Bringing 3D and Windows Mixed Reality experiences to the classroom to spark creativity
Mixed Reality can bring a whole new dimension to teaching and learning in the classroom. If anything makes me wish to be a student again, it's mixed reality. With 3D and Windows Mixed Reality, we're empowering educators with a whole new set of tools to create curriculums for their students and peers.
Today, we announced a new strategic partnership with Pearson, one of the largest education companies in the world, who is working to integrate 3D and mixed reality into their secondary and university level curriculum. By the school year 2018, Pearson will offer curriculum in health, commerce, history, and STEM, on all Windows Mixed Reality devices. In addition, we announced a new feature coming to Windows 10 this fall, called View Mixed Reality. This feature allows you to see 3D content through your screen into the real world as mixed reality, using a simple RGB camera.
STEM Saturdays at Microsoft Store
We want all students and teachers to experience education experiences from Microsoft. Beginning this Saturday, May 6, Microsoft Store locations across the United States, Canada, Puerto Rico, and Australia will host STEM Saturdays throughout May in all full-line locations in addition to the range of free programs year-round that empower students and educators. STEM Saturdays bring pop-up classrooms to Microsoft Store and offer hands-on experiences like building a sensor that measures the flexion and extension of a finger to learn about the anatomy of a human hand.
We believe technology can be used as a tool to empower students and teachers to create the world of tomorrow.
We can't wait for tomorrow.
Terry
*Testing conducted by Microsoft in April 2017 using pre-production Intel Core i5, 256GB, 8 GB RAM device. Testing consisted of full battery discharge during video playback. All settings were default except: Wi-Fi was associated with a network and Auto-Brightness disabled. Battery life varies with settings, usage, and other factors.
UPDATED MAY 2, 2017 1:12 PM