JUNIOR ACHIVEMENT – Inspire And Prepare Young People To Succeed.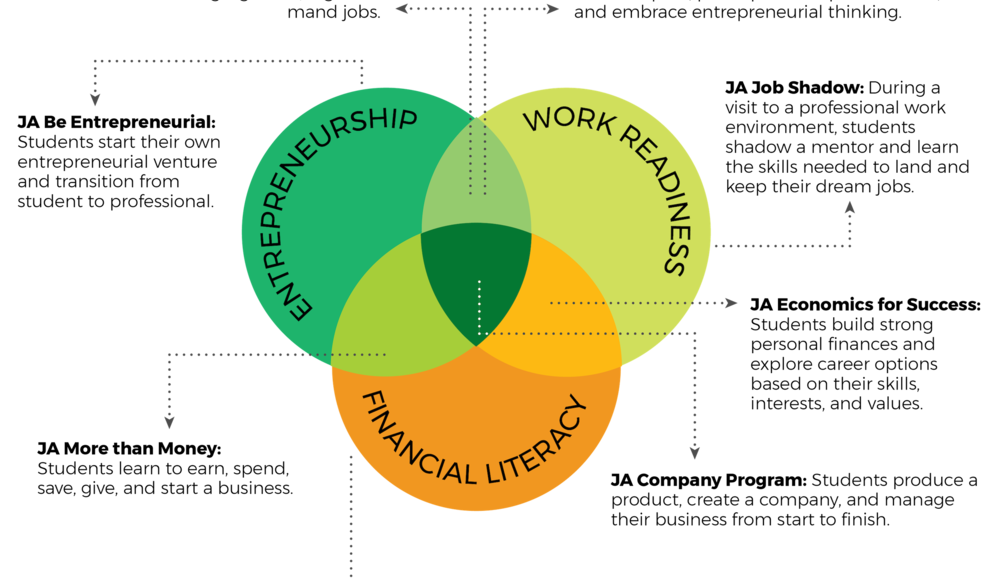 Additional popular programs:
• JA BizTown teaches students how to operate companies, manage finances, and vote for mayor in a simulated town.
• JA Economics, a course for older students, explores how economic principles influence business decisions and consumer behaviors.
• JA Finance Park introduces students to personal budgeting by assigning them careers, families, mortgages, and other responsibilities, including developing a personal budget.
• JA Global Marketplace teaches students how globalization affects their lives as they take on the role of business owners who produce globally sourced goods.
• JA Innovation Camp presents older students with a hypothetical social or business challenge and gives them the tools to find innovative solutions to the challenge in one day.
• JA Our City explores the impact of city government, financial institutions, and the media on small businesses and startups.
• JA Our Community teaches students about the intersection of business and community, especially how money flows through an economy.
• JA Our Families explores how the work of family members contributes to the well-being of the family and the larger community.
• JA Our Region gives students a first look at entrepreneurship as they run a hypothetical business and track revenue and expenses.
• JA Ourselves introduces young students to the role they play in an economy, including the importance of saving and giving and the value of work.
• JA Success Skills focuses on communication, collaboration, learnability, technological fluidity, and other interpersonal skills that lead to success in the workforce.
• JA Travel & Tourism Biz, also called TTBiz, helps students move easily among cultures and encourages them to start tourism-related businesses.
​​
​​
Diversity Statement:
Junior Achievement is the recognized leader in "empowering young people to own their economic success®" through volunteer-led, experiential learning. We are dedicated to providing a positive, enriching learning experience free of bias. Junior Achievement welcomes K-12 students, volunteers and potential staff regardless of race, religion, age, gender, national origin, disability, sexual orientation or any other legally protected characteristic​​
Source: JA Worldwide and Network
To commemorate our 100th year in 2019, we've launched 100 Lives: profiles of JA alumni who are making a difference across the globe. Watch their inspiring journeys. Our staff serving more than ten million young entrepreneurs in more than 100 countries..