The 100 Best Business & Economics Programs in the World Today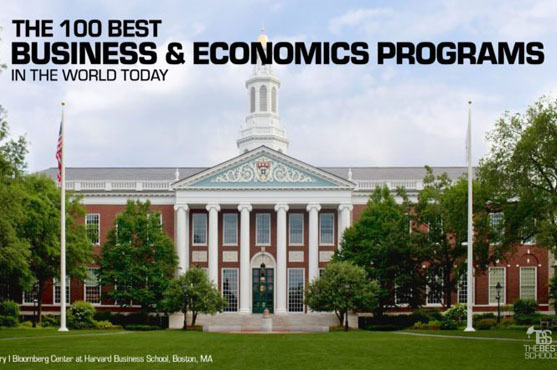 There was a time when studying business meant learning your family trade. All you had to do to run an economic enterprise was carve out a local niche and master the skills of your mentor. But now, business has become a multinational venture that brings different languages, cultures, currencies, and legal jurisdictions into contact. And to make matters even more complex, the increasing use of technology will only continue these trends into the foreseeable future.
Likewise, the economic disciplines which study the product of these business transactions only grow in complexity with each passing year. What was once a branch of philosophy has evolved into possibly the most controversial of the sciences, as mainstream economists routinely disagree over when is the time to buy or sell, or which school of economic model has the most predictive value.
Not surprisingly, the need for a first-class business/economics education in a world where the stakes keep growing, even as the future increasingly looks opaque, drives many to formal education. Any number of subjective and objective factors will determine which school is most appropriate for a particular student. Some students are geographically restricted, or prefer a given school based on tuition.
But for the purposes of this ranking, we are only concerned with results. We lay out which schools have the most deeply respected faculty and the most well-established alumni. We want to know which school is most likely to land you a job working for the Federal Reserve, or managing a Fortune 500 company.
This ranking is dominated by English-speaking countries. Although the emerging markets have gained considerable ground in the hard sciences in recent years, English remains the international language of business, and as a result all but four of the top 50 schools come from the United States, Britain, or Canada. Nevertheless, everyone knows that the future of business is global, which is why our top 100 ranking still includes schools from China, the Netherlands, Singapore, Israel, Germany, and many more nations.
For this ranking, we looked to the Center for World-Class Universities operated by Shanghai Jiao Tong University (right). This center specializes in ranking universities as well as their individual programs of study. International in scope and focused on academic performance, these are known as the "Shanghai Rankings."
From the Shanghai Rankings, we therefore identified the 100 best programs in the latest 2015 Academic Ranking of World Universities in Economics. Taking this Shanghai Ranking as our point of departure, we researched the most important characteristics of each of the top 100 economics programs on the list in order to reveal why each university business & economics program appears where it does.
Here is Top 10.
The 100 Best Business Schools in the World
(Cambridge, MA)
The Harvard School of Business has its own unique history and outreach. The first MBA program in the world was started at Harvard in 1908. Global research centers have been established in Japan, Europe, India, and more. Of the 268 total faculty members, there have been 18 books written, 193 research articles published, and 617 educational materials produced.As an institution that has been around since 1636, Harvard has had ample time and resources to put not only towards education and research but also business and economics. Beyond the prestige of the name, Harvard has established a vast network of faculty members and alumni around the world. It has over 300,000 alumni in over 200 countries. The HarvardX initiative was produced to enhance online and distance learning education reaching over 1,000,000 students from 195 countries worldwide.
(Chicago, IL)
University of Chicago Booth School of Business focuses on rigorous inquiry in addition to a multiplicity of analytical and behavioral tools to help transformational ideas succeed. The network of 49,000 accomplished alumni can attest to the value of the education received. The Booth Business School recently announced in 2014 the opening of the executive MBA program in Hong Kong.The University of Chicago prides itself on encouraging its over 14,000 students to pursue original ideas through academic rigor. Founded in 1890, there are now over 150 institutes and centers with over 2,000 full-time faculty, including seven Nobel Prize winners currently on staff. There is a 157,000-alumni network worldwide. The school has many global connections, but does not neglect those closest to home. The University of Chicago also partners with local institutions, accomplishing research and application with real-world benefits and replicable outcomes for urban universities.
(Cambridge, MA)

With one of the leading business schools in the world, the MIT Sloan School of Management continues in the tradition of academic excellence of the school at large. It boasts 14 Action Learning Laboratories with projects focused on entrepreneurship, sustainability, and global health. Over 1,300 students participate in 10 academic programs for undergraduates through business executives. Classes are taught by approximately 200 experienced professors and lecturers. Sloan alumni have founded over 650 companies including E*Trade, Gartner, Genentech, HubSpot, InVivo Therapeutics, Teradyne, and Zipcar.From research on alternative energy sources to cancer therapies, MIT enjoys intellectual challenges with global impacts. Some research achievements include the first wind tunnel, designing of the TX-0 computer, and playing a key role in the Human Genome Initiative. Founded in 1861, there are now over 1,000 professors and more than 11,000 total current students. The vast alumni network spans over 90 countries and includes over 120,000 former students.
(Berkeley, CA)

Of the 14 Colleges and Schools, the Haas School of Business at Berkeley is the second oldest in the country, being founded in 1898. Six degree programs are offered to over 2,200 students who come from around the globe. The programs and research are organized into three institutes: Business Innovation; Business and Social Impact; and the Energy Institute. The Business school has an approximately 40,000-alumni network worldwide.Founded by academic pioneers in 1868, the University of California Berkeley has always been progressive and aggressive in its academic training and research initiatives. Most research done is cross-disciplinary and focuses on the global issues of the day. The success of Berkeley can be seen in the 1,600 full-time faculty members, seven of whom have won Nobel Prizes and four of whom have won Pulitzer Prizes. The students and alumni are equally successful and known for later completing more PhD's than any other school in America.
(New York, NY)

Immersed in the business capital of the world, New York City, research done at Columbia University's School of Business truly has global impact. Founded in 1916, the ever-evolving curriculum trends with cutting edge material that has led to 13 winners of the Nobel Prize in Economics. The global network of over 40,000 alumni continues in the successful and innovative tradition of the school.Founded by royal charter of King George II of England in 1754, Columbia University is one of the few schools established before the American Revolution. As a premier research institute, the university has many notable achievements, including the establishment of the first American medical school in 1767, and its annual distribution of the Pulitzer Prize. With such an extensive history, the school has a powerful alumni network both past and present, including nine Supreme Court Justices and three United States Presidents.
(Princeton, NJ)
As a world-class research institution and Ivy League School, the historic culture and traditions of Princeton span generations. Founded in 1746, the school has developed into one of the richest schools in the world despite its moderate class size, giving students greater access to its more than $21 billion endowment. Academic programs are organized into 36 departments with 5,200 undergraduate students and 2,600 graduate students enrolled. Over 1,100 experienced faculty members work for Princeton. The University is well known for four main areas: engineering and applied science, humanities, natural sciences, and social sciences.
The Department of Economics at Princeton has global connections with over 30 countries worldwide through its diverse and talented student body. It is also known for its strong connections to the Federal Reserve through former professor and Fed Chairmen Ben Bernanke. With 13 Centers and Programs for research and further education, multidisciplinary networking is encouraged. The department offers a full range of academic programs from undergraduate to graduate. Educational resources include the Economics Library, the Industrial Relations Library, and the American Economics Association Directory.
(Stanford, CA)
Stanford has taken a leadership role in education and research since its opening in 1891. Located in the heart of California's Silicon Valley, the University is diverse and intellectually dynamic with 7,000 undergraduate students and 9,000 graduate students. There are over 2,000 qualified faculty members dedicated to the proliferation of knowledge and preparing students for leadership roles. Twenty-one current members of staff have been awarded the Nobel Prize.
The Stanford School of Business was founded in 1925 and currently employs 126 highly motivated faculty members. The programs offered include the MBA, MSx, and PhD, in addition to Executive Education and two global certificate programs: the Stanford Ignite and the online LEAD certificate. Students are exposed to diverse topics and cutting edge business strategies preparing them to face any challenges in the work field. The extensive alumni network includes students from over 50 countries.
(Philadelphia, PA)
Following in the global perspective, creativity, and entrepreneurial spirit of its founder, Benjamin Franklin, the University of Pennsylvania (known as "Penn") prides itself on the diversity and intellectual rigor of its staff and students. The international outreach of the school places it first among the Ivy Leagues for the number of students studying abroad. Of the 290,000 living alumni, 23,000 live internationally, further establishing the global network and influence of the school.
As the world's first collegiate business school, Penn's Wharton School of Business keeps pace with current issues through the largest and most-published business school faculty. Founded in 1881, the school now includes 10 academic departments: Accounting; Business Economics and Public Policy; Finance; Healthcare Management; Legal Studies and Business Ethics; Management; Marketing; Operations/Information and Decisions; Real Estate; and Statistics. In addition, there are 20 research centers and initiatives and 94,000 alumni in 153 countries worldwide.
(New York, NY)
Taking advantage of its unique environment, New York University embraces diversity in all aspects from student body to culture and creative thinking. Founded by former Secretary of the Treasury Albert Gallatin in 1831, the university has always been globally minded; it established the first comprehensive liberal arts campus abroad to be operated by a major research institution. Today, the school has expanded into Africa, Asia, Europe, and South America as well with a total of 11 global academic centers and research programs in more than 25 countries. But it still retains its base of operations in Wall Street's backyard.
Within the Stern School of Business at NYU, standards of excellence are expected. The Stern School offers the following programs: BS; MBA; Langone MBA for working professionals; executive MBA; TRIUM Global executive MBA; MS in Global Finance; MS in Risk Management; MS in Business Analytics; and PhD. Of the 339 faculty members, there are three Nobel Prize winners currently on staff.
(Evanston, IL)
The university is organized into 12 Schools and Colleges, including the Kellogg School of Management which has been ranked #6 in the world for business by U.S. News & World Report. The Kellogg School offers seven different program tracks for students: full time MBA; part-time MBA; Executive MBA; Executive Education; MS in Management studies; and the Doctoral Program; as well as certificate programs for undergraduates. The Kellogg School runs one of the largest business program networks with 37 exchange programs across 20 countries.Northwestern University enjoys the academic success and achievements consistent with a $10.5 billion endowment, with $550 million spent on research each year. Since 1851 the school has grown from the 25-acre campus in a Chicago suburb to a globally-minded institution with more than 100 international opportunities and study-abroad programs.
Nguồn : http://www.thebestschools.org/features/best-business-economics-programs-in-world-today/